"It was quite revolutionary to me because I could see every face on that screen, every character, was Asian — and therefore they could be a terrible, wretched individual, or the villain or the hero. It wasn't making a broader statement that all Asians are like this."
"I found that very freeing because I like to write morally grey characters, people who are flawed."
She Who Became the Sun quickly became an international success.
Readers around the world lauded Parker-Chan for the complex characters, and depictions of queer longing and gender dysphoria.
The novel hit number one on The Sunday Times bestseller list, was named by The New York Public Library as one of the best fiction books of 2021, and came fourth in the 2021 Goodreads Choice Awards for fantasy. It was also shortlisted in categories for the British Book Awards, the Lambda Literary Awards and the Aurealis Awards.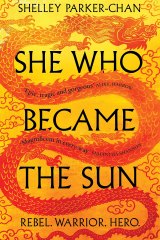 This latest nomination for a Hugo Award came a few weeks ago, and the winners will be announced at the 80th World Science Fiction Convention in September. Past nominees include Kurt Vonnegut, Orson Scott Card, Isaac Asimov, George R.R. Martin, and Neil Gaiman.
While science fiction has historically been viewed as a white and male domain, Parker-Chan said "there is something fundamentally radical about science fiction and fantasy that makes it a great place for people to work when they want to explore that intersection between race, gender, culture and colonialism."
The US, in particular, has published a wave of critically acclaimed, diverse fantasy books including R.F. Kuang's The Poppy War series, Fonda J. Lee's The Green Bone Saga, and S.A. Chakraborty's The Daevabad Trilogy.
"I had the sense that the space was opening up," Parker-Chan said. "There's now room for a story like mine: queer and Asian, but not with a white cast or an American perspective."
While a number of similar books have been released to acclaim in the US, Australian publishers have not kept up and, as a result, She Who Became the Sun has not received the same hype here.
There are very few Australian imprints that publish sci-fi or fantasy and, according to Parker-Chan, even when the big publishers acquire international sci-fi fantasy successes, they seem to prioritise marketing for other genres such as literary fiction, non-fiction, or young adult fantasy.
Loading
This is part of the reason Parker-Chan and many other Australian genre fiction authors choose to publish in the US.
Outside Australia, the author has also run into some trouble with the Chinese state media.
The Global Times, a Chinese Communist Party tabloid, recently criticised She Who Became the Sun for disrespectfully reinterpreting the founding Ming Dynasty emperor and contradicting the official government narrative.
"I'm writing for English-speaking audiences," said Parker-Chan. "Mainland Chinese people have their own stories, they don't need mine."
"The diaspora came out of that same set of historical events, we just diverged from mainland China … We want to connect to that history, but we'll see it through our own lens and we'll place our own readings upon it."
The Booklist is a weekly newsletter for book lovers from books editor Jason Steger. Get it delivered every Friday.