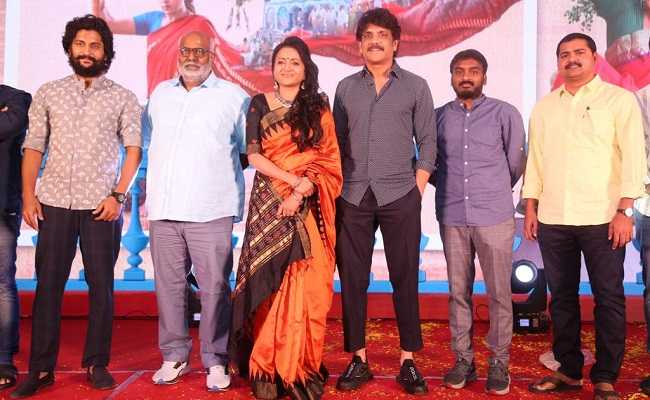 Star TV Anchor is doing a film 'Jayamma Panchayathi' which is releasing on May 6th. The movie had its Pre-release event in Hyderabad. King Nagarjuna and Natural Star Nani are the Chief Guests for the event.
Speaking at the event, Nagarjuna said,"This does not look like a Pre-release event, it looks more like a festival. When Suma invited me, I can not say no because of my love for her. The director and team even if they use 10% of Suma's talent, you would score a big hit. I wish her nothing but the best".
Nani said, "I would have even missed my own event to attend this. I don't know what governments and associations did for Cinema but Suma garu did more. We are indebted for her bringing positivity before all our films. I wish him nothing less than a phenomenal success to her. Along with screen, she rocked the big screen as well. The energy we see in her is also visible in the trailer. I wish she becomes so busy that we don't get her dates for our events". 
The Star of the event, Suma herself is all smiles to night. "This is all because of your love. I am always proud to be a Telugu TV host. I thank the director, producer, MM Keeravani garu, all the team and my co-actors for their work. Special thanks to those who taught me Srikakulam slang. I should also thank my parents, in-laws, husband Rajiv, and my kids for supporting me. I thank Suresh Babu garu and Suniel Narang for supporting our film. I get my energy from your eyes and your class. I did the film with the same energy. I know fans of all stars to watch my film. If you watch and bless, our newcomers team will get more opportunities.
New App Alert: All OTT Apps & Release Dates Under One App