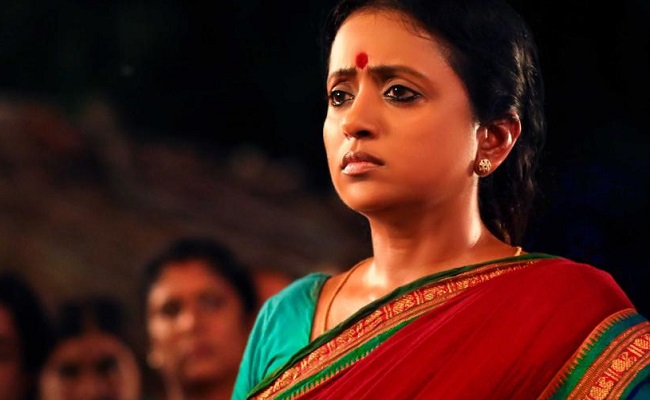 Suma Kanakala is the leading anchor in Telugu and she is finally making her comeback to films with Jayamma Panchayathi which will be releasing on May 6th.
Suma in her exclusive interview with us says, "Although I came to the industry 30 years back, I dedicated myself to anchoring for last 15 years. I was thinking, what are the other things I can do? I feel bore myself, if I continue doing the same and stick myself to TV. Thus, I gave it a thought of making re-entry to films. I reinvented and re-designed myself to do movies."
Suma says she had the fears in the beginning that her career would go for a toss, had she dared to do movies, when she's busy in TV.
It was really tough for Suma to prepare for the role, as the story of Jayamma Panchayathi is sent in Srikakulam and sound synch technology was used, thus she had to utter her dialogues accurately.
"The character needed for me to do lots of homework, in terms of slang, looks, body language. I loved the character Jayamma completely. In fact, Jayamma and Suma are identical in many ways.
The point I like the most in Jayamma is she doesn't give up, till the end, if she decides to do something. The character has shades of the legendary actor Bhanumathi who indeed would be the right choice to play Jayamma."
She calls every writer and director she worked with are her teachers. "I learnt Telugu and many other things from writers and teachers. I still am learning."
Suma says she's fortunate that Keeravani scored music for the film. She, however, clarifies saying, it was director's call on the music director.
In fact, Suma's family shares good rapport with Keeravani and Rajamouli's families. "Rajeev and Rajamouli used to do government ad films. They have been very good friends. Rajeev played main character in Shanti Nivasam serial. He then appeared as main villain in Rajamouli's Student No 1. It was my first audio function. I also went for promotional tours."
Suma informs Rajeev is not part of Jayamma Panchayathi. "Devi Prasad played my husband in the film. He was too good in the movie. Others too played their parts. Mostly actors are from theatre background from Srikakulam. You don't feel like actors performing, while you watch the movie."
About the content of the movie, Suma says, "There won't be continuous humor in the movie, but the humor is generated through situations. There's more drama in the story. The film actually ends on emotional note with a satirical humor."
Suma affirms, "It's like a celebration to promote my own film. I'm experiencing all of it. If we don't promote a film, audience won't get to know about it and they don't come to theatres."
She avows, "My first priority is small screen. I'm very much attached to TV camera and screen. It gave me freedom of speech."
About her son's film, Suma informs, "The movie will begin soon. He's very clear about becoming an actor. He's looking forward to do roles which have scope for performance."
New App Alert: All OTT Apps & Release Dates Under One App